Eat your way to fit body and beautiful skin – quick tips for busy ladies
For many ladies, snacking is a favorite thing to do and we usually like to share good food with our friends or colleagues. The question is what to eat! It should be not only tasty but also convenient for your busy life and at the same time provide enough nutrients for your health. Following are some suggestions of yummy, cheap and healthy meals for busy ladies.
Nuts and seeds – energy-boosting and skin-revitalizing foods
Nuts and seeds such as soybeans, peanuts, almonds, cashews and pumpkin seeds are rich in fibers, proteins and unsaturated fats. They help supply high-quality energy for your body and satisfy your food craving. Some nuts such as almonds contain alpha-linolenic acid which gives your metabolism a boost to burn more fat; while soybeans contain antioxidants that help to slow down aging naturally.
Salad – a quick and easy 10-minute dish
A dish of salad with sesame sauce or mayonnaise is quick and easy to prepare. It takes only 10 minutes to make this yummy dish. Firstly, combine lettuce, herbs, sliced tofu, medium cube-chopped tomatoes and cucumbers, raisins and sunflower seeds in a large bowl. Then pour sesame or mayonnaise and mix on top. Et voila, with little effort in the kitchen, a fresh and vitamin-rich dish is ready for you.
To make your salad dish even more flavorful, you may want to add canned tuna or ham. It's a yummy way to provide your body essential proteins and lipids.
Fresh fruits – a nutritious and natural food for a beautiful skin and good shape
Fresh fruits are top popular snacks for ladies. There are tons of fresh fruits for your choices such as apples, guavas, mangos, acerola cherries, melons… Fresh fruits not only stop your craving but also provide essential vitamins for healthy skin.
With smart choices of foods, you can still spoil your love for food without worrying about gaining on weight.
Yogurt – real beauty food
Made from nature, yogurt is a "treasure" of ladies' appetite since it not only tastes good but also keeps them in good shape with beautiful skin.
Supplemented with the right amount of carbohydrates and proteins, yogurt provides you with full energy and maintains your blood sugar level. In additional, vitamins and calcium in yogurt helps revitalize your skin and build up strong and endurable bones.
You can choose traditional plain yogurt or luscious Vinamilk Aloe Vera Yogurt to nurture and vitalize your skin every day.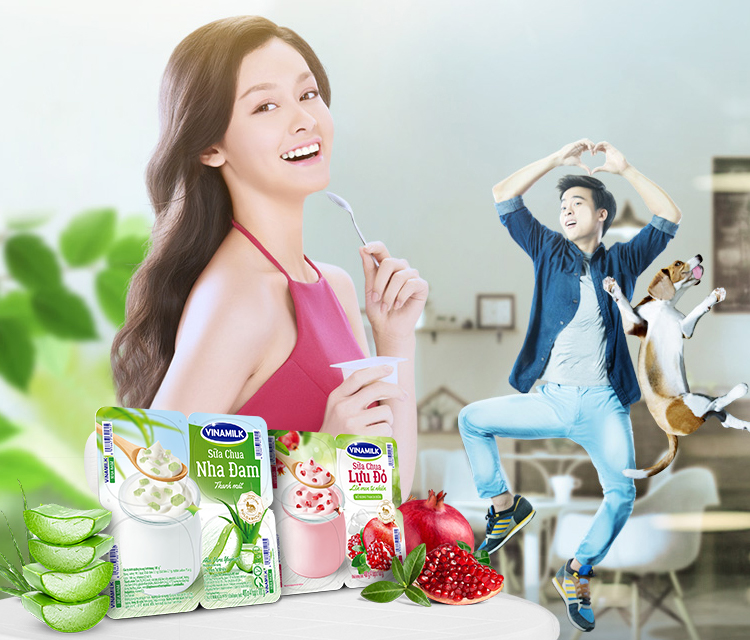 Vinamilk yogurt
Bí quyết ngon khỏe từ thiên nhiên!
Công ty sữa Vinamilk không ngừng mở rộng nguồn nguyên liệu, đẩy mạnh đầu tư và nghiên cứu sản phẩm mới với mong muốn mang đến dinh dưỡng tối ưu cho người Việt