Home spa tricks with yogurt
For modern ladies, yogurt is not only a healthy tasty food but also a natural homemade skincare product. Let's try some of the following yogurt masks and enjoy spa treatment at your home.
What makes yogurt beneficial for skin?
Yogurt contains antibacterial enzymes that fight against acne-causing bacteria. Yogurt is also a rich source of vitamins including C, B1, B2, B6 and B12, which help to tighten, minimize pores and nourish your skins.
Potato and yogurt face mask
This combination helps exfoliate dead skin cells, fight acnes, treat blackheads and tighten your skin.
Simply boil one potato, then mash it and mix it with yogurt until you got a thick paste. Gently apply the mixture to your face and massage for 20 minutes. Then rinse it off with warm water. You can use this facial mask twice a week.
Lemon, honey and yogurt face mask
This mask help treat and prevent acne, nurture your skin for a smooth radiant look.
Thoroughly mix 1 spoon of yogurt, 1 spoon of honey and some drops of lemon juice. Then, use a cleansing cotton pad or a brush to gently apply the mixture on to your face. Let the mixture be absorbed to your skin for 15 minutes then rinse off with warm water. Do it twice a week.
Oatmeal and yogurt mask
This is an ideal way to exfoliate your skin, remove blackheads and control oil for glowing skin.
First, mix 1 spoon of oatmeal with 1 spoon of yogurt. Then coat your face thoroughly with this mixture. Relax and wait about 15 minutes until it dries. Rinse off with warm water. You can use this facemask twice a week.
Olive oil, avocado and yogurt face mask
This mixture help nourish, minimize pores and revitalize your skin.
Blend a quarter of an avocado with 1 spoon of yogurt and 1 spoon of olive oil to make a smooth paste. Gently spread the mixture over your face and leave it on for about 20 minutes. Then wipe it off and rinse with cool water. You'll love your new fresh face. This facemask can be used once or twice a week.
With these wonderful yogurt facemasks, now you can own youthful glowing skin as if you've just stepped out of a luxurious spa.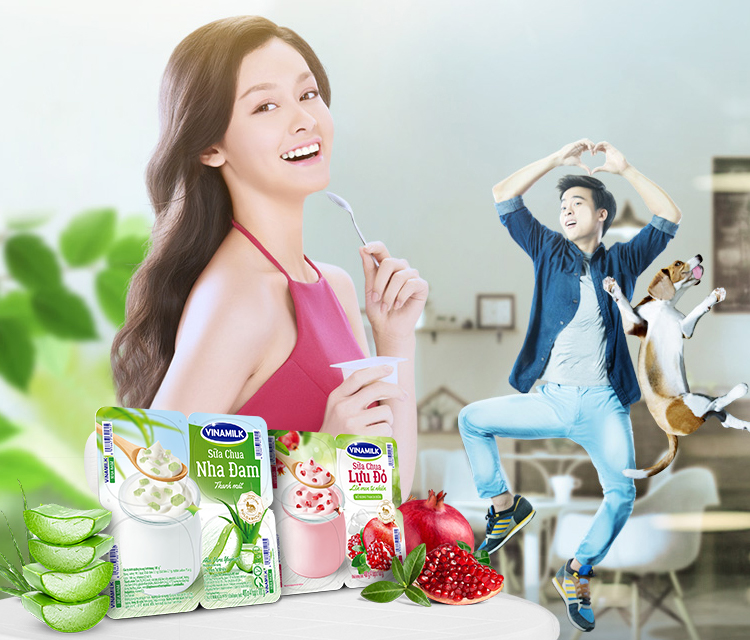 Vinamilk yogurt
Bí quyết ngon khỏe từ thiên nhiên!
Công ty sữa Vinamilk không ngừng mở rộng nguồn nguyên liệu, đẩy mạnh đầu tư và nghiên cứu sản phẩm mới với mong muốn mang đến dinh dưỡng tối ưu cho người Việt