The essential nutrients for beautiful skin
"Great skin is always in." - Smooth and healthy skin is a must-have asset of a woman's beauty. Therefore, it's important to nurture your skin with essential nutrients.
Fatty acids
Fatty acids help moisturize your skin and give it a healthy and radiant look. You can get fatty acids from foods such as salmon, cod, chia seeds and almonds.
Fiber
Fiber is not only good for the digestive system but is also a critical component in the detoxification process that gives you healthy and smooth skin. High-fiber foods such as nuts, vegetables and fruits should be added to your daily meals.
Vitamins and minerals
Vitamins and minerals are the foundation for healthy skin as they help turn back the signs of aging and revitalize your skin. Vitamins and minerals can be found in fruits, eggs, milk, some meats and seafood.
Collagen
Collagen makes up 70% of your skin and is the main structural protein of the various connective tissues responsible for the skin's structural integrity, elasticity and resilience. As your skin loses collagen, aging signs and wrinkles are unavoidable.
Add collagen, vitamins and minerals to your diet
Fatty acids, fiber, vitamins, minerals and collagen are essential for beautiful skin. The easy and tasty way to make sure you get the nutrients above is to have 2 cups of Vinamilk Aloe Vera Yogurt a day.
Vinamilk Aloe Vera yogurt contains not only fresh aloe vera cubes but is also supplemented with vitamin D3 and Calcium to give you a good skin and body. Vinamilk Probeauty yogurt is also a good choice for beautiful skin since it contains vitamins, minerals and collagen up to 1350 mg/box. Vinamilk Probeauty yogurt with antioxidants from pomegranate and blueberry also gives you radiant, youthful skin.
With essential nutritional components, Vinamilk Aloe Vera & Probeauty yogurt will be the "golden key" for women to have youthful and vital beauty.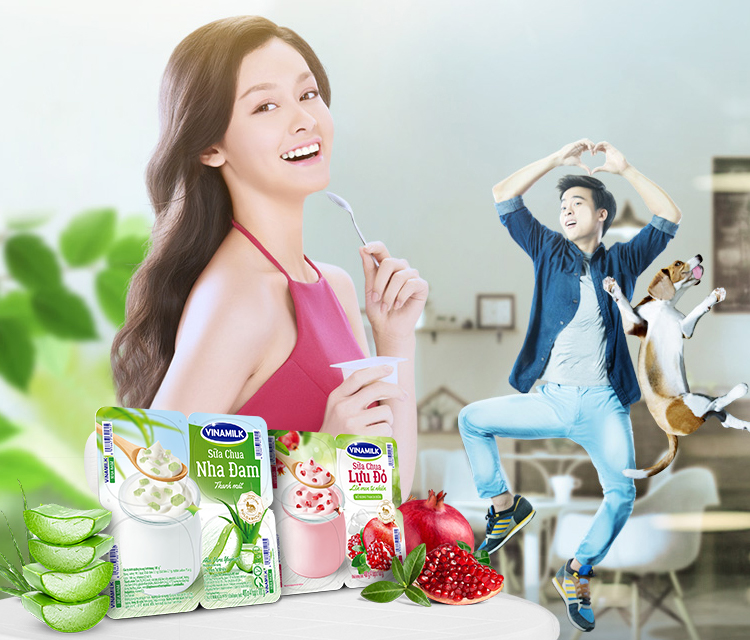 The essential nutrients for beautiful skin
Bí quyết ngon khỏe từ thiên nhiên!
Công ty sữa Vinamilk không ngừng mở rộng nguồn nguyên liệu, đẩy mạnh đầu tư và nghiên cứu sản phẩm mới với mong muốn mang đến dinh dưỡng tối ưu cho người Việt