Vinamilk listed among Vietnam's top 100 best places to work
The assessment criteria listed in the Anphabe's website for participants to judge are: salary, bonus, welfare, opportunities for professional development, culture and entertainment, leadership, work and life quality, and company's reputation.
Amongst 1,000 companies in almost all different industries in Vietnam which were judged by more than 9,000 participants, Vinamilk ranked the first in terms of its salary, bonus, welfare and leadership while Unilever topped the list in terms of opportunities for professional development and the company's reputation.
LIST OF TOP 100 BEST PLACES TO WORK ACROSS ALL INDUSTRIES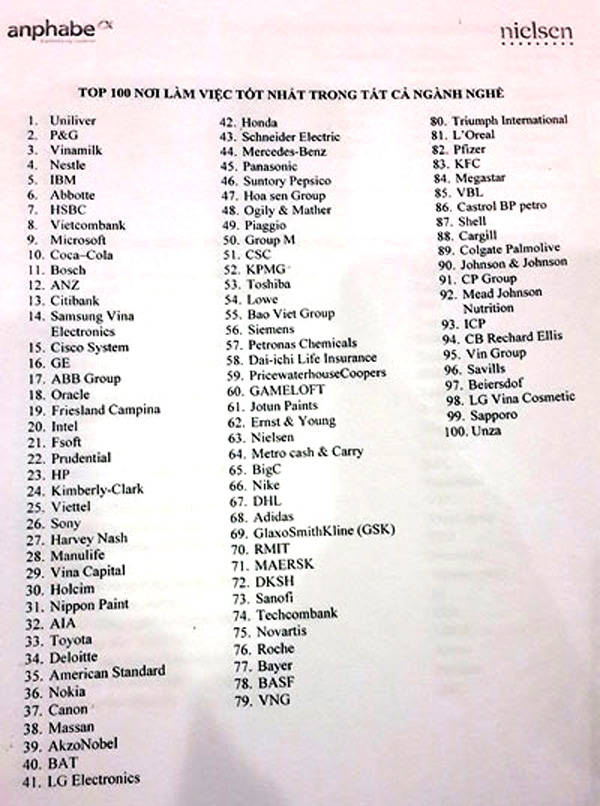 The multinational corporations continued to be highly assessed and made up the majority of the Top 100 while Vietnamese companies' presence was still quite rare. In the Top 10, there were only two Vietnam representatives: Vinamilk and Vietcombank.
In 2013, Vinamilk's gross revenue reached VND 31,126.84 billion, increasing 16.2% compared to that of the same period in 2012. Its profit before tax reached VND 7,946.7 billion in 2013 which increased by 15.4% and its profit after tax was VND 6,472.09 billion which increased by 11.86% compared to that of 2012.
The top 10 corporations in the above-mentioned list from Anphabe's survey are the familiar well-known brand names which have also appeared in the recent ranking lists: Unilever, P&G, Vinamilk, Nestle, and Coca Cola. etc.
According to VTC News