Research & Product
Improvement
PRODUCTION OF UHT FRESH MILK WITH MODERN EQUIPMENTS AND ADVANCED TECHNOLOGIES
PRODUCTION OF MILK POWDER WITH MODERN EQUIPMENTS AND ADVANCED TECHNOLOGIES
The Vietnam Powdered Milk Factory is equipped with the Asia's leading modern milk powder production line with state-of-the-art production technology. The factory operates with completely closed process, 100% automatic from processing, canning, packing, ensures absolute safety and food hygiene for consumers. In addition, the plant is equipped with bar code tracking system from raw material input to finished products in order to easily trace any complaints related to the product.
High-quality ingredients are tested in accordance with strict standards before being stored. The factory has quality control staff with good knowledge and laboratory equipped modern machines, applies advanced methods for testing. All processing stages are strictly controlled.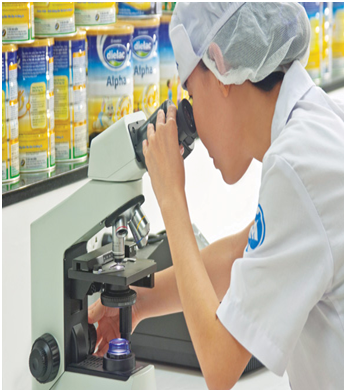 After testing, ingredients are blended following standardised recipes. Materials used for wet processing will be mixed in the vacuum mixing tanks to limit adverse changes in product quality. This system also makes feeding easier, avoids cross-contamination.
After mixing, the milk is tested for quality and goes through pasteurization, homogenization and heat treatment using UHT sterilization system supplied by GEA group, the leading Germany company of process technology for milk powder. This system is designed to ensure complete elimination of harmful microorganisms.
UHT sterilization system is an advanced steriliser that can heat the milk up to 140oC and cool quickly to keep the natural flavor and nutrients, vitamins and minerals in the product.
After that, milk continues to be transported to the drying tower. Here, the milk will be dried shortly to maintain the nutritional value.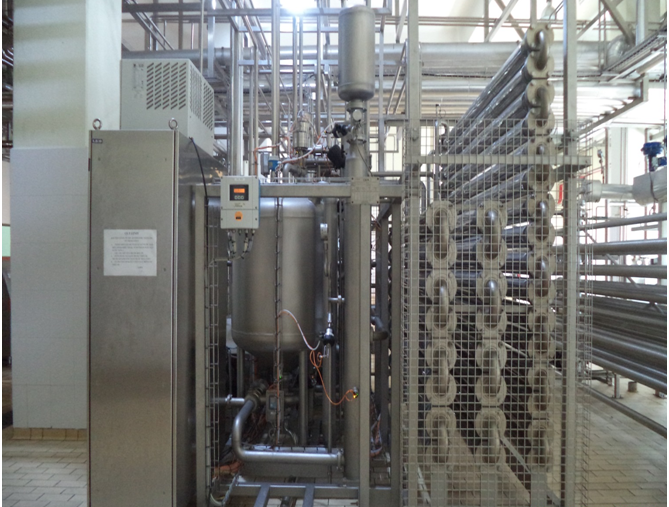 The factory is applied advanced technologies and equipped with state-of- the-art equipments, especially the leading drying system in Asia area. The production line complies with stringent standards of the Codex Alimentarius for infant and children formula, not only makes product safe but also keeps nutrients, vitamins and minerals unchanged during processing. The product complies ISO 14025 Standard, reducing energy consumption and emission to air, soil and water.