Excellent dairy farms in Vietnam in 2014
Vinamilk farm recently honored with the award for "outstanding dairy farm in Vietnam" in 2014 awarded by the Department of Livestock.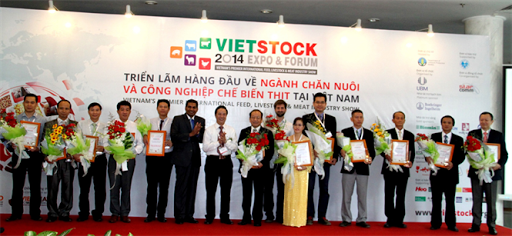 Rep vinamilk and businesses Prize 2014 exhibition Vietstock
Vietstock 2014 exhibition - the leading international exhibition for the livestock industry, animal feed and meat processing in Vietnam by the Department of Livestock (Ministry of Agriculture and Rural Development), chair; Farm Dairy Joint Stock Company Vietnam - vinamilk awards honored outstanding dairy farms in Vietnam in 2014 awarded by the Department of Livestock.
Earlier, dairy farms vinamilk - Nghe An Organization Global GAP Certification ConTrolUnion awarded the certificate of international standard Good Agricultural Practices Global (Global GAP). Vinamilk Nghe An farm is the first farm in South East Asia is Global GAP certification and is one of three international standard farm GlobalG.AP Asia . Following this, two other farms is vinamilk Tuyen Quang dairy farms and dairy farms Lam Dong has achieved certification to international standards GlobalG.AP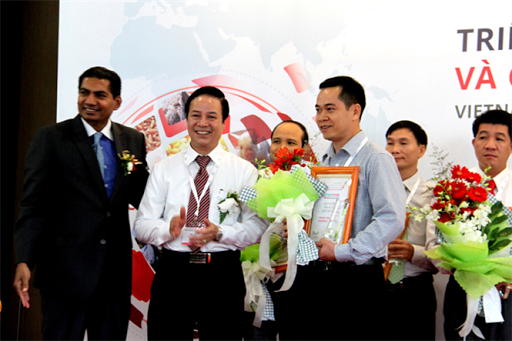 Le Van Dung - Director dairy farm in Nghe An vinamilk representative Farm award outstanding dairy farm in Vietnam by Hoang Thanh Van, Livestock Department awarded.
The entire herd on the farm in Nghe An is now pure HF cows (Holstein Friesian) 100% imported from Australia and New Zealand. In addition to cows, to get pure fresh milk, beef diets were mixed at the rate of optimal nutrition with nutritional ingredients imported directly from the United States. In addition, farms with modern equipment to help care for the best beef such as roof insulation, mattresses, necklaces mounted chips ... along with clever milking system automatic . Furthermore, to ensure healthy surroundings, the farm also has waste disposal systems meet international standards. With modern equipment and systems meet stringent international standards, dairy farms in Nghe An deserved vinamilk page is best Vietnam in 2014.
System 5 vinamilk farm, including farm vinamilk Nghe An also has quality management system ISO 9001: 2008 by Bureau Veritas Certification Organization (France) grant.
The farm vinamilk Nghe An award winning dairy farm Best Vietnam 2014 will help vinamilk increasingly create confidence for customers; enhance the reputation and competitiveness in the market; vinamilk elevate Vietnam markets as well as international; this is the official announcement about the commitment of vinamilk in ensuring absolute safety quality raw material milk really clean, pure and natural, ready to meet demand The higher the customer; efficient use of resources and sustainable agricultural production.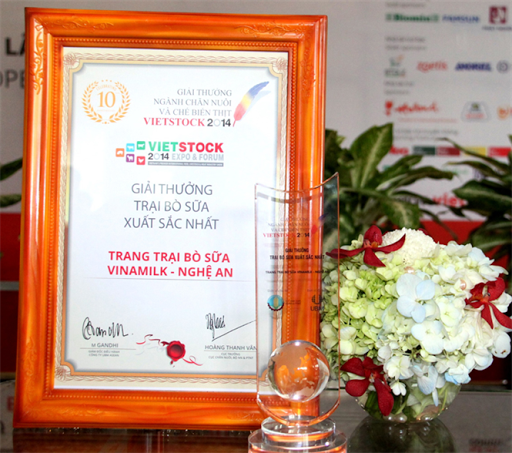 Vinamilk honor award Excellent dairy farms in Vietnam in 2014
For dairy industry sustainable development, vinamilk strive actively grade raw milk quantity and quality. Since 2006, vinamilk began to invest in the dairy sector directly through construction of farm dairy industry with a starting capital of 500 billion and now has grown to 1,600 billion (2013).
Up to this point vinamilk 5 farms in Tuyen Quang, Thanh Hoa, Nghe An, Binh Dinh, Lam Dong. During the 2014 -2015 year plan, add 4 large-scale farms are vinamilk construction and put into operation, such as the Unified farm (Thanh Hoa), Nhu Thanh (Thanh Hoa), Ha Tinh and Tay Ninh.
In the period 2014 - 2016, vinamilk expected to continue to import high-grade cattle from Australia, US to meet the demand for seed of the new farm.
Currently, the number of cow provided milk for the company include vinamilk farms and farmers have signed contracts to sell more than 80,000 milk cows vinamilk. Each day, cows provide about 550 tons of raw milk. With plans to develop new farm, vinamilk will bring his total herd of cattle from farms and households to about 100,000 in 2017 and approximately 120000-140 .000 Figure in 2020, with milk output in 2020 is expected to rise to more than double, is 1000-1200 tons / day to ensure supply of pure milk served abundant domestic demand and exports.
Source: Vietnam Agriculture newspaper