Vinamilk farm first to achieve EU organic standard in Vietnam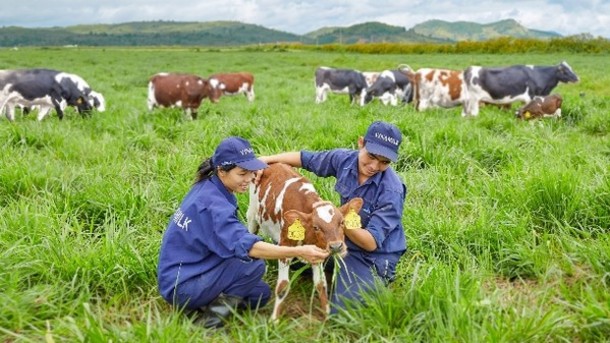 Vinamilk's organic dairy farm has been certified to a European standard by Control Union. Pic: ©Vinamilk
Vinamilk's Da Lat Organic dairy farm, located in Lam Dong, is the first organic dairy farm in Vietnam to be certified to a European standard.
The certification was made by Control Union, a Dutch global network of inspection operations with a range of certification programs.
Vinamilk's organic dairy farm started with a herd of 500 dairy cows in the first phase. The company said that Lam Dong, with a year-round temperate climate and large pasture areas, provides the ideal habitat for the organic dairy cows, which arrived in June 2016 by airplane.
Richard De Boer, Control Union representative, said that over the past 15 years the dairy industry in Vietnam has made significant progress.
He added that it was unusual for a company to achieve EU Organic certification on the first visit, which Vinamilk achieved.
Phan Minh Tien, executive director of Vinamilk, said that the organic standard is considered to be the world most premium quality standard with a strict production process: no chemical involvement, antibiotics, growth hormones or genetic-modified ingredients.
"Organic foods are nutrient-rich and safe for consumers' health,"
Selection of breeds and cow care
On the Da Lat Organic dairy farm, cattle are free-grazing and organic fed, with open housing systems.
During construction, Vinamilk selected breeds that are disease-resistant, and would fit with the local environment.
The farm uses rotation farming methods to ensure effective use of land resources, and uses biogas renewable energy and solar energy.
In June 2016, the company's organic milk was certified according to USDA standards
Source: dairyreporter.com