Vinamilk to open dairy-cow farm in Da Nang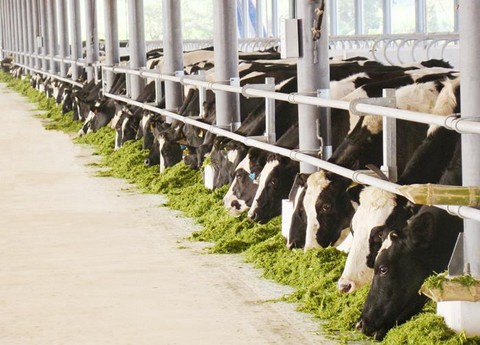 Vinamilk has two other dairy-cow farms in the central region, one in Lam Dong Province in the Central Highlands and the other in the coastal province of Binh Dinh. — File Photo
The Viet Nam Dairy Cow One-Member Company (Vinacow), a subsidiary of Viet Nam dairy Products Joint-Stock Company (Vinamilk), plans to develop a dairy-cow farm on 66ha with total investment of VND350 billion (US$17 million.
Vinamilk has two other dairy-cow farms in the central region, one in Lam Dong Province in the Central Highlands and the other in the coastal province of Binh Dinh.
Trinh Quoc Dung, Vinamilk's executive director of its dairy development division, said the new cow-farm and production line would be built in Hoa Phong commune in Da Nang's Hoa Vang District.
The farm, which would have a herd of 2,500 cows, would provide raw material for a milk-processing plant in Hoa Khanh Industrial Zone.
The company also plans to launch dairy-farm tours for visitors at the site, and will build a maize and grass field. Construction on the farm will begin in 2016.
In a recent meeting with Da Nang's People's Committee, Dung said the company's milk processing plant in Da Nang had earned revenue of VND1.7 trillion (US$81 million) in the first six months of the year, and had contributed VND80 billion ($3.8) million to the city's budget.
Vinamilk's dairy-cow farms are located in Tuyen Quang, Thanh Hoa, Nghe An, Binh Dinh and Lam Dong provinces. — VNS
Source: bizhub.vn