1.600 billion construction consortium largest dairy farm in Thanh Hoa
The project has a total area of ​​2,500 hectares, is expected to go into operation, complex dairy farm in Thanh Hoa high technology will provide more than 36 million liters of milk per year to the market.
Afternoon 10/8, JSC Vietnam Dairy Products (Vinamilk) groundbreaking combination of dairy farms tech Vinamilk Unification Town (Yen Dinh district, Thanh Hoa province). The project has a total investment of 1.600 billion, on 2.500ha area, including 147ha to build farms and development 1.600ha for raw material areas for herds green.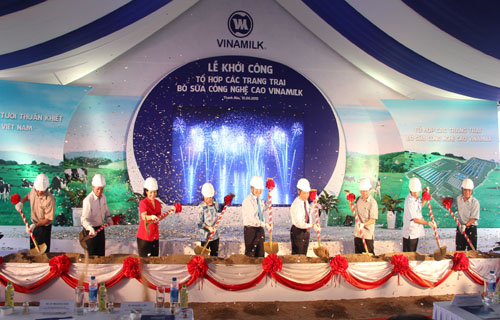 Leaders of Vietnam Dairy Products Joint Stock Company and the deputies Vinamilk groundbreaking of the largest dairy project in Thanh Hoa. Photo: Le Royal.
Combination of dairy farms tech Vinamilk in Thanh Hoa was designed by GEA Farm Technologies Contractors (US), with technology and modern machinery, automation, control and data computer transferred to the company's headquarters in Ho Chi Minh City.
As investors, combining the technology of dairy farms in Thanh Hoa high Vinamilk will import beef from Australia and the US to scale the 16,000 and 24,000 children could rise in the second phase. It is expected, when in operation, the complex will provide an average yield 98,630 kg a day, equivalent to more than 36 million liters per year. It is expected that the work will go into operation in 2017.
Ms. Mai Kieu Lien – General Director of Vinamilk said successful projects will create jobs and steady income for local labor, as well as technology transfer support dairy farmers in Thanh Hoa and other provinces shallow. In addition, the project also contributes to the realization of the goal of achieving revenue of $ 3 billion in 2017 and gave Vinamilk became one of 50 companies produce the world's largest milk.
Vinamilk has 8 large-scale farms with whole cows imported from Australia, New Zealand and the US. Vinamilk farms are farms in Southeast Asia's first certified Global GAP good agricultural practice worldwide. Apart from these 8 farms, Vinamilk also links to nearly 8,000 farm households are dairy farmers with an average yield of about 650 purchasing tons of milk per day.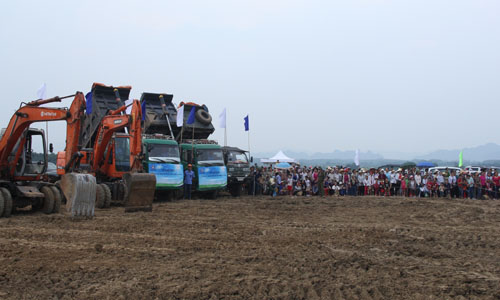 Expects the complex will come into operation in 2017. Photo: Le Royal
Since 2015, Vinamilk continues to invest more than 2400 billion to build large-scale farms. The company's goal is to bring the total to 140,000 to 160,000 cows in 2020 children.
In the last 5 years, Vinamilk consistently achieved sales growth above 20% average per year. The first 7 months of 2015, Vinamilk earned nearly 23,000 billion, up nearly 17% over the same period, state budget nearly 2.600 billion.
Source: greenglobalgroup.com.vn